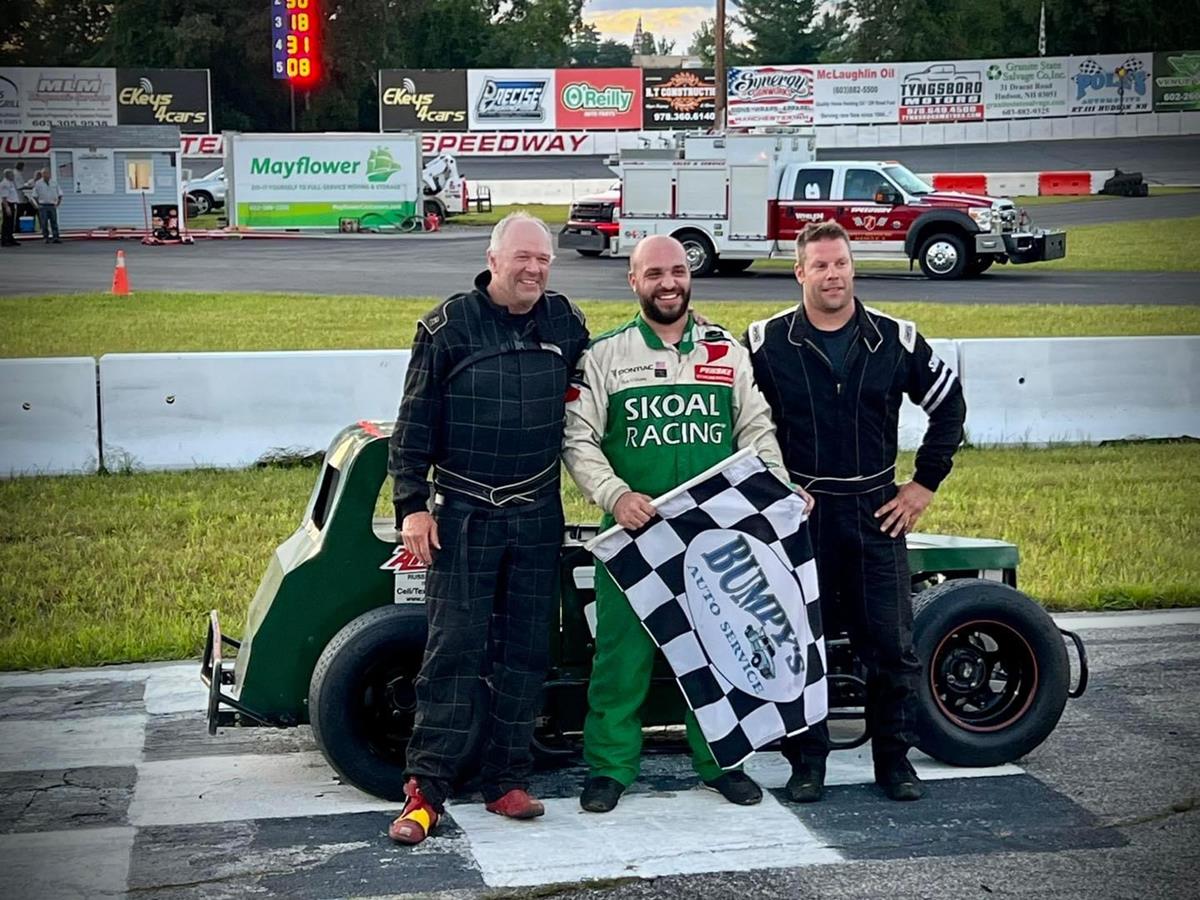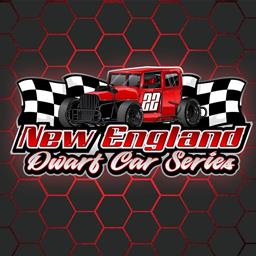 8/16/2023
New England Dwarf Car Series
---
Harris Wins 4 in a Row
Hudson, NH –
Mother Nature tired throwing a Curveball at us again as we returned to Hudson Speedway with a heavy rain that flooded turn 3 and parts of the pits but track owner Ben Bosowski and track general manager Steve Gran lead a "we aren't giving up attitude" that track crew, track sponsors, drivers and crews could get behind to work together to get the water taken care of with a slight delay in the racing program.
Justin Harris in the 29NH and Doug Dawkins in the 94 picked up heat race wins. With a 6 car invert Cody Hodgdon in the 31 and Duane Skofield in the 30 got to start on the front row. Cody Hodgdon and Skofield would race side by side as Stu McCormick in the 04, Jimmy Ryder in the 18 and Harris would be all under a blanket. Lap 3 would see the lone caution as the 12 of Sarah "Cupcake" Hodgdon would spin off of turn 4. Skofield and Cody Hodgdon would try the front row again but swapping lanes but the first attempted would be called back as Skofield would go a little high going into the restart zone drawing the displeasure of race control. They would do it one more time going side by side into turn 1. Skofield would take the lead on the backstretch with Ryder in tow. Harris would make the pass for the 3rd spot and would look to catch the top 2. 9 Laps in Harris would take the 2nd spot. The top 3 would be nose to tail slicing and dicing lap after lap. At halfway Harris would use a crossover move to take the top spot going into turn 1. Harris would capture his 4th win in a row with Skofield in 2nd, Ryder in 3rd, Cody Hodgdon in 4th, and McCormick in 5th.
We would like to thank American Racer New England for the great tires and Bumpy's Auto Service in Salem, NH for their continued support! If you are your business would like to sponsor a race or anything along those lines please reach out to us! The racers appreciate everything! We will be heading the Riverside Speedway and Adventure Park in Groveton, NH this Saturday August 19th to do battle against their regulars. Check out their Facebook page for full schedule for the day.
---
Article Credit: Ryan Lawliss
Submitted By: Mark Beaudry
Back to News