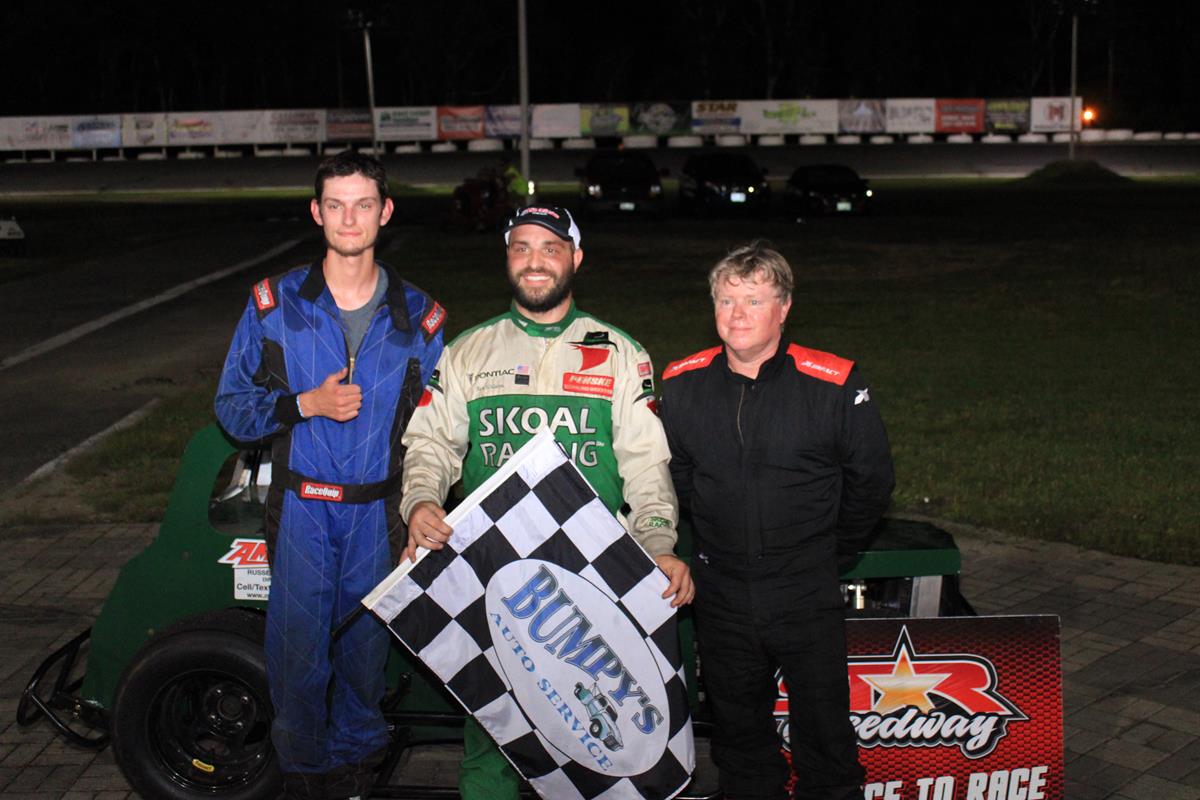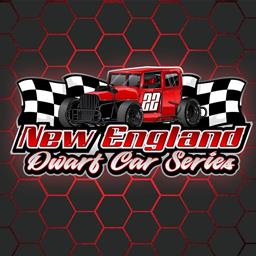 7/11/2023
New England Dwarf Car Series
---
There will be nights like this, but Harris holds on at Star!
Epping, NH- After weather prevented the June 25th race at Hudson Speedway; the cars and stars of the New England Dwarf Car Series returned this past Friday night to "The Place to Race" Star Speedway for the 2nd of 3 stops at the ¼ mile bullring. 23 Dwarf Cars made the trip but one driver was not getting behind the wheel. Current point's leader "Top Gun" Tom Harwood was involved in a non-racing related accident and will be out of competition while he recovers.
In support of Harwood, Nick and Bec Prenaveau of Bumpy's Auto Service- Salem, NH sponsored all drivers' entry fees for the race. In turn the race distance was moved to 29 laps in honor of Harwood's car number. Further the drivers, series supports, and supporters of Harwood donated at minimum $20 per lap with all the money going to Harwood. Additionally all of the series drivers went into the stands with their helmets to collect money from the fans and the fans of Star Speedway showed their support with donating over $1500 which Series owner Ben Bosowski matched making it a very large sum of money donated to Harwood to help him as he recovers. As a series we can't thank all of the fans and drivers for their show of support! It was great to see Harwood in attendance and we can't wait to see him back behind the wheel of the orange 29 when he is ready.
Heading to the action on the track where it was as hot as the temperature. Three heat races were used to set the field for the 29 lap main event. Andrew Harmon (14) making his 2nd start of the season set out a blistering pace to win heat race number one, Duane Skofield (30) used his veteran experience to take heat race number two and Ryan Carman (08) muscled his way to win heat race number three. As become the new standard for the division winner of heat race number one spins the invert wheel; landing on 6. This put veteran drivers Chris Sullivan (0no) and Justin Harris (29NH) on the front row of the 21 car field.
Harris wasted no time rocketing out to the lead; for those at the last Star race just under a month ago this was a very familiar site to see. The race would be slowed by numerous cautions and two red flags. The first caution would see the 3r of Kyle Robinson and 08x of Caden Roberts having their evening end. Laps 17 thru 20 would be when chaos would ensue. During these laps the race would be over for numerous drivers including Sarah "Cupcake" Hodgdon (12) who entered the race third in points and Jeremy "The Mullet Man" Rodimon (23) to name a few. Harris survived pressure from various drivers throughout the entire offer but was able to complete the mission he set out for which was to bring home the win for his good friend Tom Harwood. Harris stopped for optional tire Durometer reading in order to do a burnout and he burnt it down in celebration. Defending series champion Cody Hodgdon (31) played the game of survivor and charged his way to a 2nd place finish. Sullivan used his start on the front row to hang around the front all day to capitalize on a 3rd place finish. After recovering from being in one of the lap 20 incidents Harmon charged back front to finish fourth. Skofield had a rough day as he spun on Lap 17 but recovered to cross the line fifth; but unfortunately was found to be too wide in front thread width in post race tech and being disqualified. This would give Carman the fifth place finish once all the dust settled and technical inspections completed.
The series sends thanks to American Racer New England for providing an amazing tire for the competitors. Bumpy's Auto Service-Salem, NH for everything they do for the series and racing in general! The series returns to action on Sunday July 19th at Hudson Speedway. For complete results for this or any race check out www.nedwarfcarseries.com.
---
Article Credit: Ryan Lawliss
Submitted By: Mark Beaudry
Article Media
Back to News