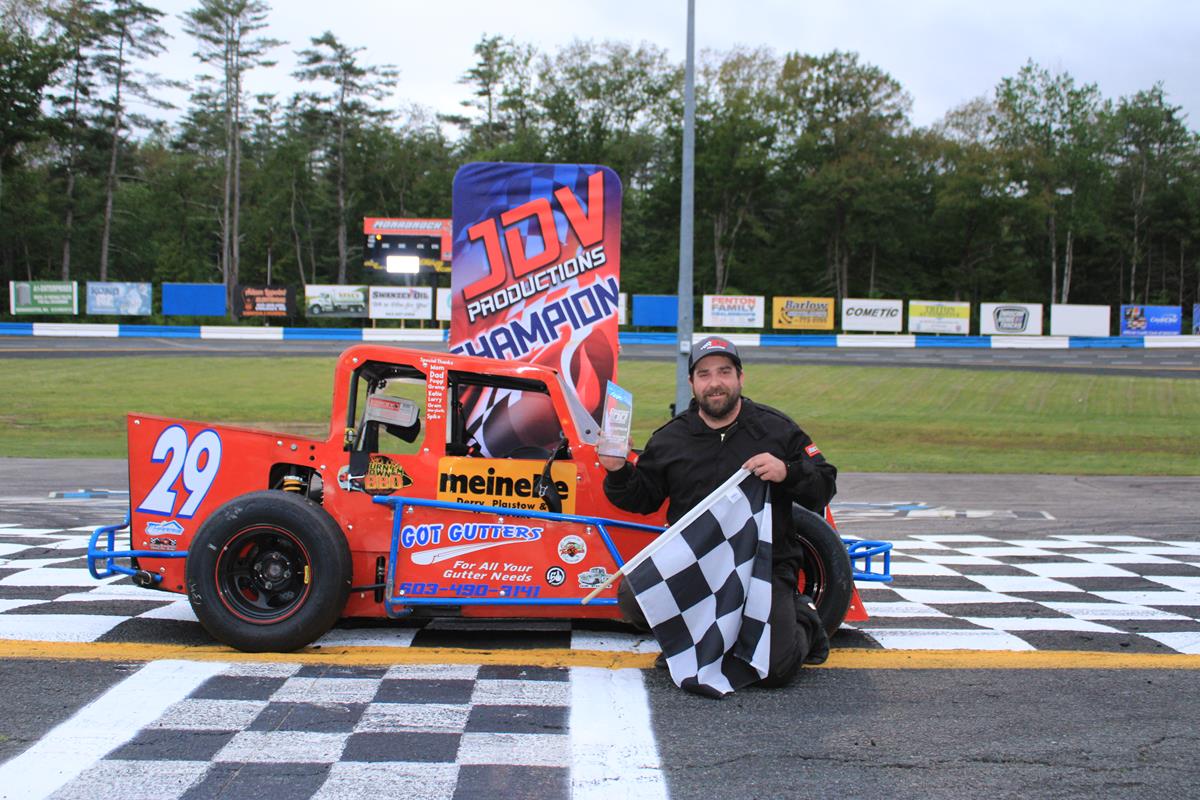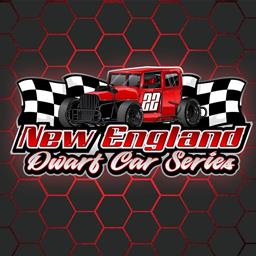 6/4/2023
New England Dwarf Car Series
---
Birthday Boy makes it 3 in a Row!
Winchester, NH
The New England Dwarf Car Series made their 2nd and final visit of the season to the High Banks of Monadnock Speedway. Despite the cooler than normal temperature and the threat of rain 12 cars made the trip; "Top Gun" Tom Harwood (29) coming off back to back wins and celebrating his Birthday today would pace both practice sessions. Cody Hodgdon (31) would take the win in heat race number 1, after breaking an axle just a week ago and being unable to run, and Harwood took the win in heat race number 2 in convincing fashion. A full field invert would be in place putting two rookie drivers on the front row; Jeremy Rodimon (23) and Caden Roberts (08x). Roberts would jump out to lead the first 7 laps before Rookie driver Zach Zilinski (7z) got around him in turns 1 and 2, but coming out of turn 4 contact between Zilinski and Roberts would cause Zilinski to spin and collect fellow rookie drivers Kyle Robinson (3r) and Tim Griffith (25); ending all of their days and putting Roberts to the rear of the field. Doug Dawkins (94) would assume the top spot for the ensuing restart and would be joined by Harwood. Harwood would take the lead on the restart. The race would be slowed for the last time when Roberts came to a stop on the top of turn 4 on lap 13. Harwood remained in the top spot for remainder of the race but it was no walk in the park as Hodgdon applied pressure through the closing laps but was just unable to get the momentum to make the pass and would settle for second place; while Dawkins finished third. Rookie driver Kenny "Caveman" Scott (72), had his best finish to date, taking fourth and Ryan Carman (08) rounded out the top 5.
A huge thank you to American Racer New England for providing a bonus to our winner this week, we can't say enough about the amazing American Racer tire that we use. We want to thank JDV Productions for including us in another one of their amazing events!
The New England Dwarf Car Series is back in action this Saturday night June 10th at Star Speedway in Epping, NH. This will be the first ever visit under the New England Dwarf Car Series to the famed ¼ track but many of the stars of the series have turned plenty of laps there and expect to put on an amazing show for the fans. For more details on this event check out starspeedwaynh.com for details or check them out on Facebook. For more information on the New England Dwarf Car Series check us out at nedwarfcarseries.com or on Facebook!
---
Article Credit: Ryan Lawliss
Submitted By: Mark Beaudry
Back to News